Evergarden Farm
Fresh, local, nutritious vegetables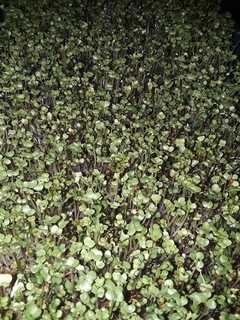 Arugula, broccoli, kale, red cabbage, kohlrabi. Delivers concentrated micronutrients and antioxidants.
Item ID: 10026
This healthy mix is equally suitable for salads, sandwiches, omelettes, sauces and many more applications. It makes any meal or snack a nutritious alternative.

In sandwiches, mix with a dressing to boost nutrition and flavor.

For entrées, use in place of or in addition to pickle relish to make a unique tartar sauce. Try chopping some mustard or radish greens for a little spicier taste.

Sprinkle on soup as a last minute garnish; change ordinary to outstanding!
| | |
| --- | --- |
| Unit of sale: | tray, 8oz approx. |